Hello, everyone! I am the newest member of the PhysAssist Scribes Marketing Team as a Communications Specialist. Simply said, I am here to help turn your stories into words and write informational content to your benefit. It's a pleasure to be here.
Let me tell you guys about my first week…
Photo Credit: Know Your Meme
First Impressions Matter
Twice a year, the company gathers special ops, trainer medical scribes and chief medical scribes from all over the United States to come together for a two day conference. Also invited to the event are support team operation employees from our headquarters and practicing physicians. My third day of working with PhysAssist Scribes happen to be the same day as the Summer 2018 Leadership Conference. My nervousness stemmed from not knowing what to expect. Personally, I believe new endeavors are ultimately beneficial, but they can still be worrisome. All I wanted was to quickly jump into being a comfortable and confident. Being a new employee is a challenge, but all of my worries diminished as soon as I walked in and was greeted by my team members along with unfamiliar, but kind, faces.
The first impression I had thought to myself was,
what a relief
. This mood carried on as I learned more
about
PhysAssist Scribes. Looking back now, I realize I had no reason to be uneasy because personal and professional development is an overall goal here. For the next two days, I watched PhysAssist scribes and support team members challenge their perspective by learning the substance of leadership and how they can bring its value back to their home workplace.
Be Here Now
A leader can be defined in many different ways; ambitious, helpful, confident, and much more. At PhysAssist Scribes, we take appreciation in all those qualities but believe the conference theme of "Be Here Now" is the foundational mindset to living life as a leader. Mentioned right at the beginning of the conference is a piece of advice everyone should take to heart; all leaders stay focused and fully connected in each passing moment. For two days, our teams were presented thought-provoking content and informational details about the company. It was clear everyone was benefiting from the participation. The energy which filled the conference was the greatest takeaway of this year's event.
Leadership Is A Lifestyle
PhysAssist Scribe's featured participants presented a variety of past accomplishments and future initiatives for the company. The first speaker of the conference, Dr. Joseph Chow, President and Chief Medical Officer of Ambulatory Care at TeamHealth, believes in leading by example.
"First, take action. Then everything will follow through. This is the way you avoid analysis paralysis," said Dr. Chow.
All leaders share a common trait; they have a clear vision of what they want. What you do with your vision will be shaped by the decisions and actions taken along your way to your ultimate goal.
One of Dr. Chow's favorite quotes is,
"At age 20, we worry about what others think of us. At age 40, we don't care what they think of us. At age 60, we discover they haven't been thinking of us at all." - Ann Landers
Dr. Chow emphasized this quote because it sums up his personal advice on how to progress in your career field… What people think of you is none of your business. This valuable lesson is a reminder to continually move forward even when you're struck with failure or stress. No matter what position you currently hold, it is important to acknowledge leadership is a lifestyle.
Here are Dr. Chow's key takeaways:
Listen first
Leaders eat last
Foster a culture of security
Take action
Celebrate wins
Seek feedback
Ask questions
Find a mentor
Read
Tend to your own garden
Words are powerful
From The Experts
As a first-time attendee (and a new employee), the most helpful talks were the overviews about the different departments that comprise PhysAssist Scribes. Working in such a large scale operation can feel like a lot of independent work, but at PhysAssist Scribes it is more than that. It is all about working together in a cohesive network of strong communicators. Helping people, help people is a mantra they encourage us to follow.
I met many other employees at the networking seminar presented by PhysAssist's Communications Specialist, Peggy Fredrickson, and Director of Operations, Julia Dyess. I learned the process to meet and greet is much more than a simple, "Hello". Halfway through the presentation, they had us put our skills to the test!
A proper introduction includes a personal plug-in about yourself.

You continue to build the relationship by getting to know the other person's accomplishments.

ASK

questions!

Over time, you

nurture

the relationship and

follow-up

.
I practiced those skills and met some fantastic individuals from other states and made new connections on LinkedIn! Personally, it was extremely helpful to know how professionals interact and make meaningful connections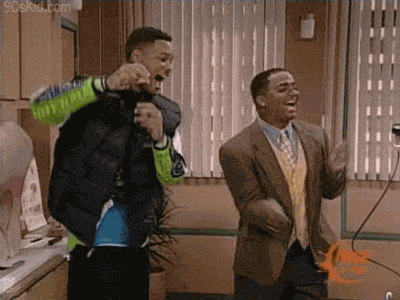 Photo Credit: GIPHY
Former Scribe Panel
As day one continued, we moved into a Q&A Scribe Panel session. The entire room was incredibly engaged in the meeting of former PhysAssist Scribes, whether the attendees were current scribes or not.
An audience member asked,
"What is the most important skill you learned at scribing? How has it impacted your work?"
The former scribes then shared their personal stories. Each panelist described the trials and tribulations they had gone through to get to where they are now. The main action they emphasized everyone should take on is to let leadership qualities translate into every area of life, the true essence of multitasking in any situation, and practice how to give undivided attention to patients.
Pictured : Ken Milman, Vice President, Operations, PhysAssist - Chris Skillern, MD - Jade Wooshlaeger, PA.
Women In Leadership
"What is one word you would use to describe being a woman in leadership?"
CONSTANT.
PRIVILEGE.
REWARDING.
AUTHENTIC.
EMPOWERING.
Strong words said by the five all-female VP panel. A group of female attendees sat together in a circle as Amber Altemose, Laura Bustamante, Amanda Ford, Chelsey Geiger, and Raegan Baskin shared their perspective about the challenges they have faced in their career journey. This was the first time I have ever heard a company having a 60:40 ratio of women to men executives. PhysAssist Scribes acknowledges building a culture around celebrating the uniqueness of the team and creating an environment where
everyone
has the opportunity to succeed. Simply put, this is the perfect place to be if you like fresh and positive energy.
Overall, it may be said...
The two-day experience in this year's Leadership Conference was one for the books! I hope anyone new coming into this company understands the lengths this team will go to for their employees. There is a big responsibility when stepping into a position of leadership, but the reward overrides the worry. Each speaker presented fantastic points and truly captured the truth of being here now.
P.S. I look forward to writing you all more stories. What would you like to see in future blog posts and upcoming events? Drop us a comment below.